Summer Vacation "Look who I ran into! The Bohlman Family and Edwards Family "bumped" into each other while waiting in line for the MYSTIC FALLS ride at Silver Dollar City during their family vacations. We hope that all of our ORSD families are making memories this summer! We look forward to seeing everyone in August!" William T. Edwards II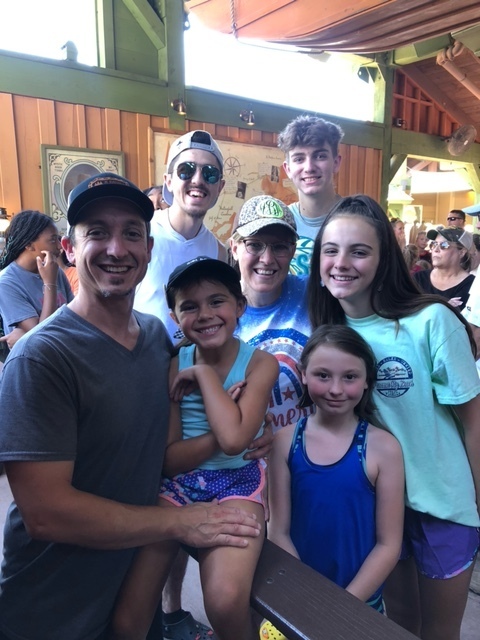 ORSD Counselors Attend ArSCA Conference The Arkansas School Counselors Association (ArSCA) Conference was held June 27-29, 2022 in Hot Springs. ORSD School Counselors Linda Heath, Apryl Philpot and Tammy Young participated in professional development training workshops and sessions on a variety of topics to provide continued support in serving and engaging students, parents, families, staff and community partnerships in the 2022-2023 school year. ORSD Counselors are members of the ArSCA Southwest Region. ArSCA supports school counselors' efforts to help students focus on academic, personal/social and career development. Ouachita River School District…preparing students for life! #orsdlifeprep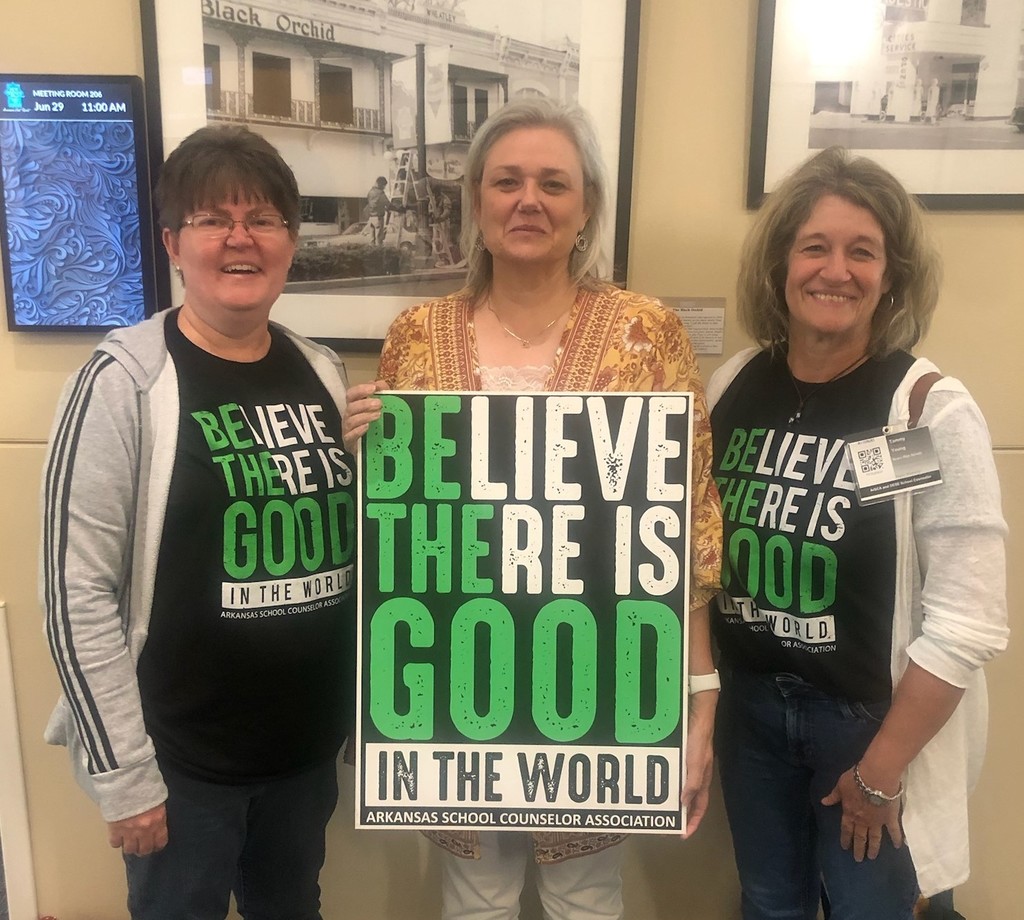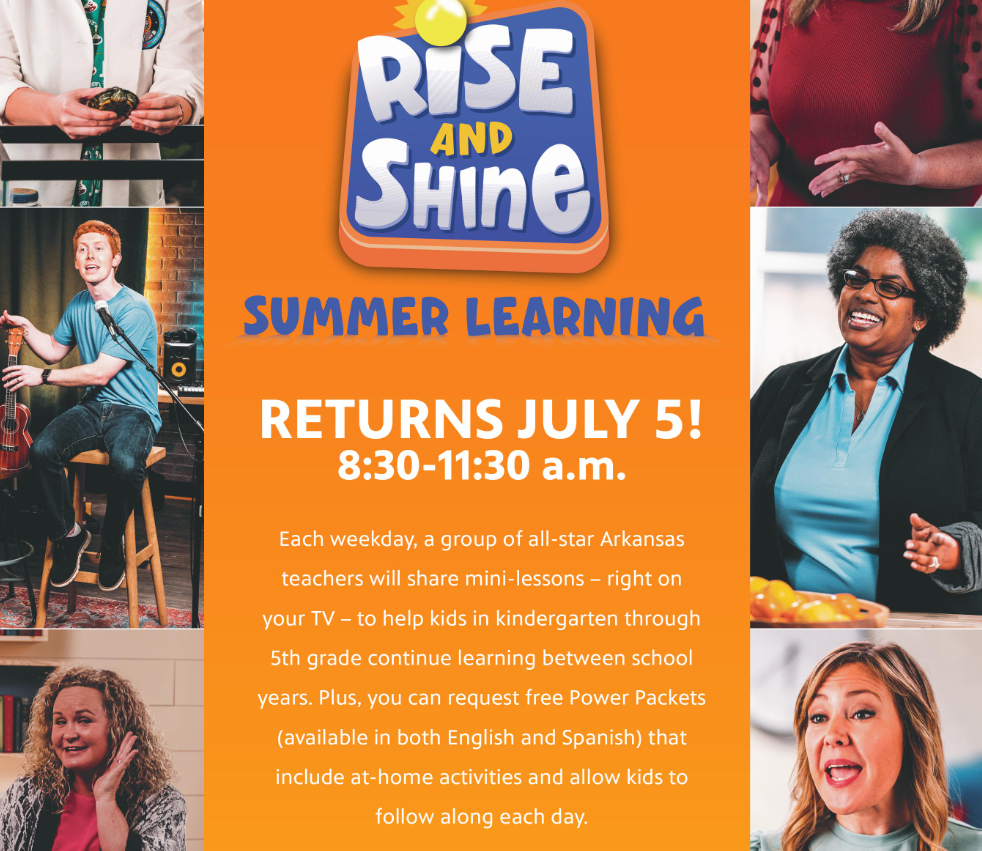 Staff members from Ouachita River School District participated in Professional Crisis Management Association training on the Oden campus as part of ACT 1084. The training took place on June 20, 21, and 22. The twenty-two-hour course taught participants crisis prevention strategies, de-escalation strategies, re-integration strategies, personal safety techniques, transportation procedures, and immobilization procedures.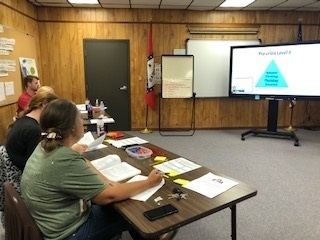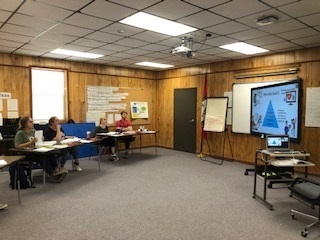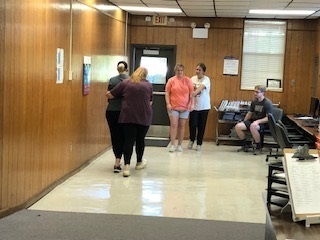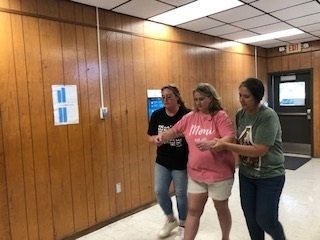 Meet YOUR Acorn Tiger Family - Jordan Powell!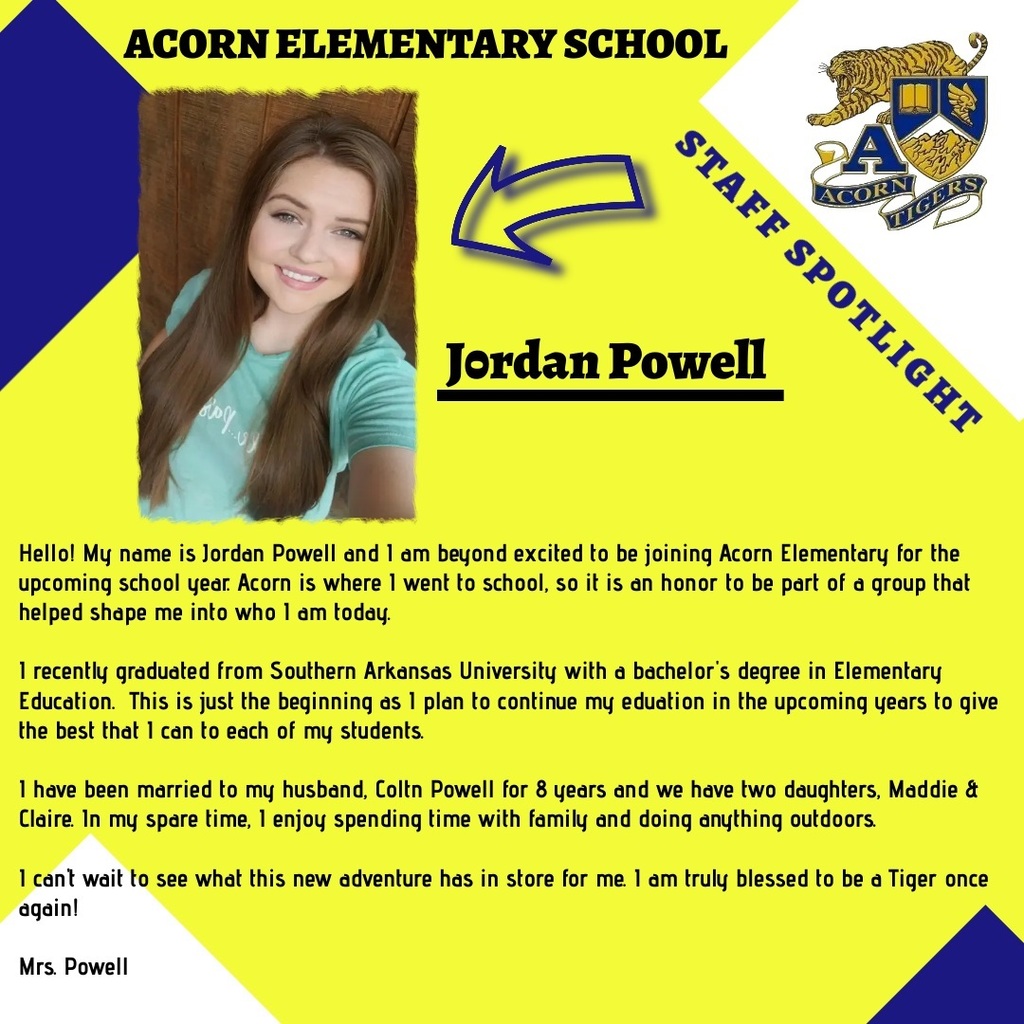 Meet YOUR Acorn Tiger Family - Makenzie Conatser!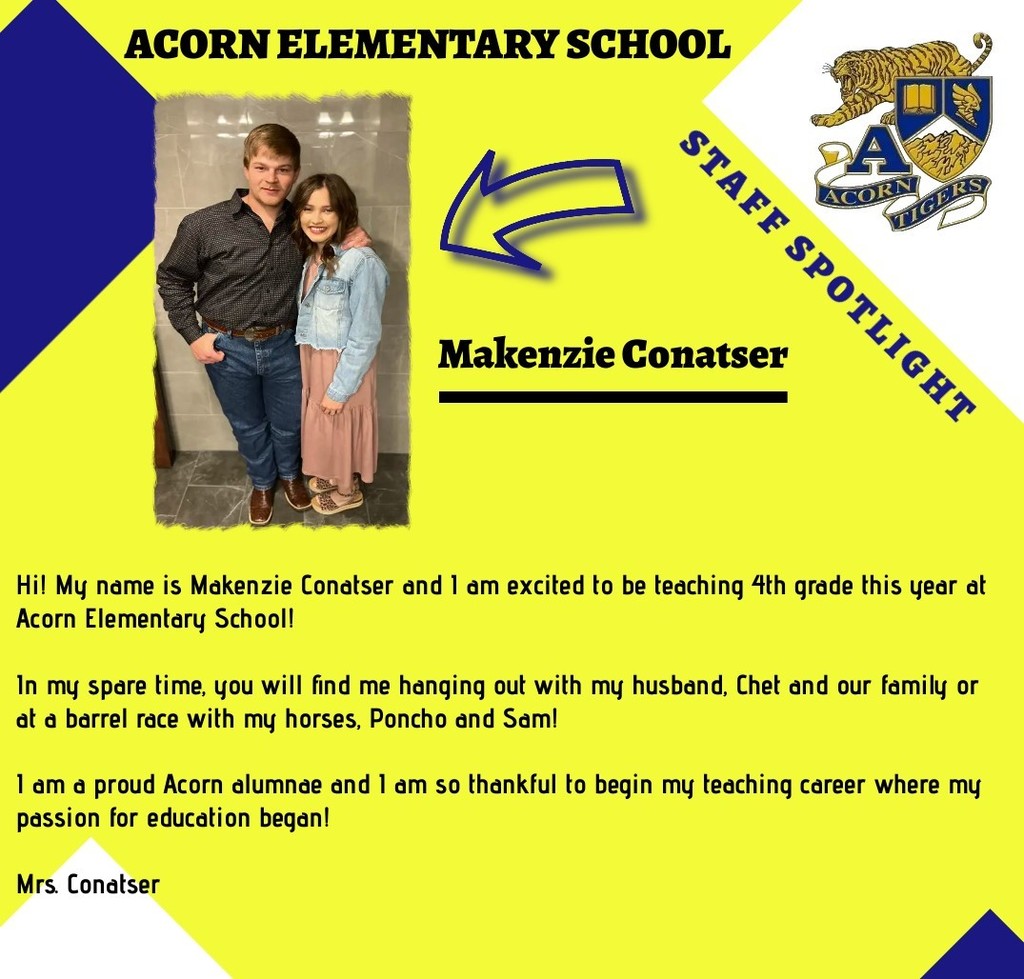 ORSD Acorn and Oden campuses will be closed on Monday, July 4, 2022 in observance of Independence Day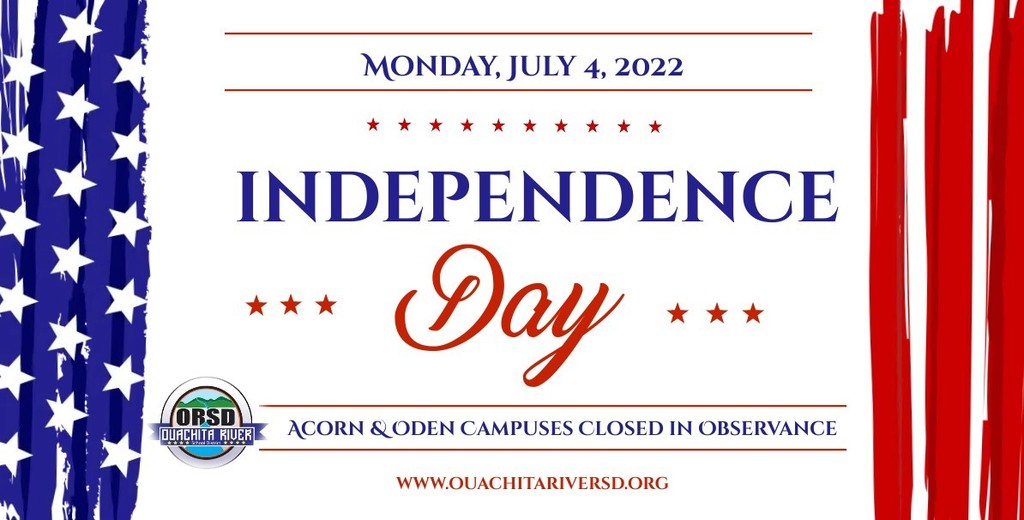 Meet YOUR Acorn Tiger Family - Beth Jackson!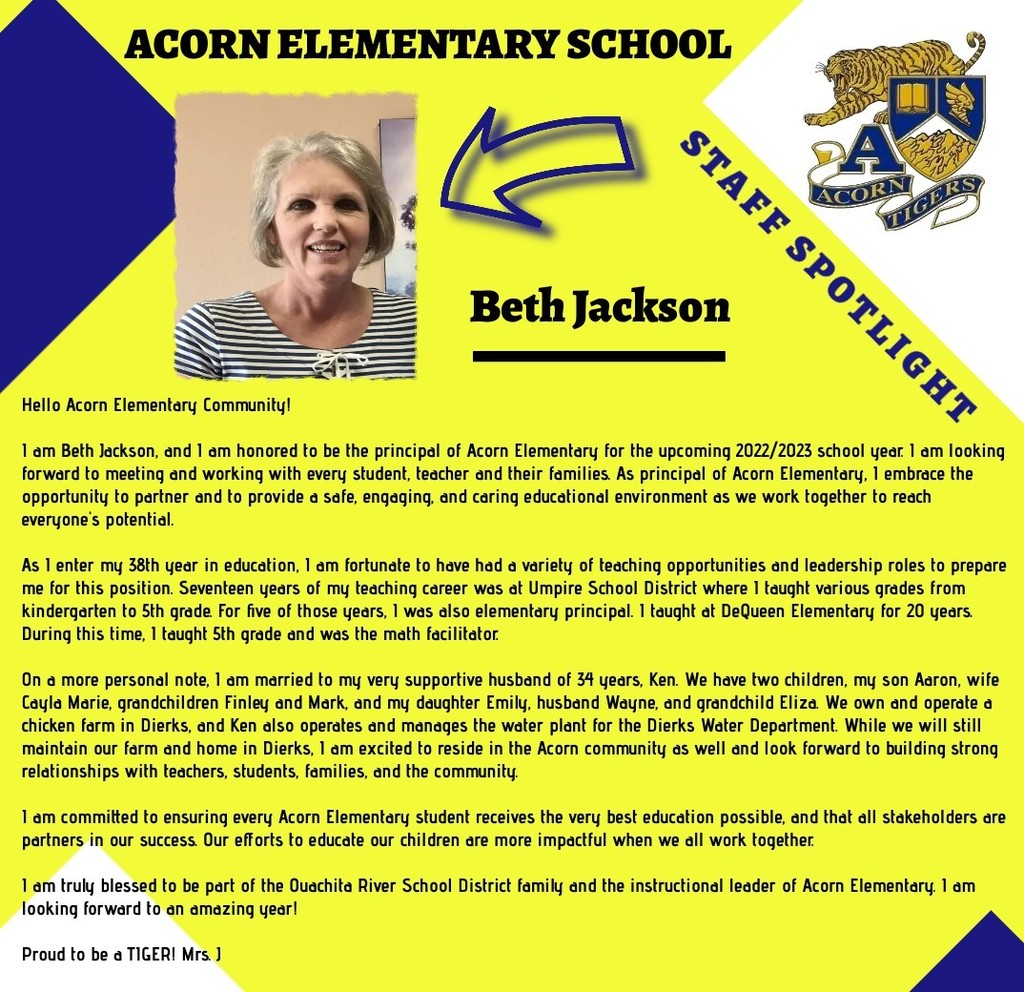 For a limited time Willsub in Arkansas is continuing to offer free background checks for substitutes. For more information, contact is listed on attached flyer.
Welcome students, families & community to Ouachita River School District! The ORSD School Calendar for 2022-2023 year is attached to assist you with planning for the upcoming year! Registration for the 2022-2023 Ouachita River School District school year for grades PreK-12 is ongoing through the summer 2022! Oden Pre-K through 12th Oden Public Schools 135 School Drive Oden, AR 71961 (870) 326-4311 Acorn Pre-K through 12th Acorn Public Schools 143 Polk Road 96 Mena, AR 71953 (479) 394-2348 - Admin Office Have a great summer! We look forward to serving you in 2022-2023!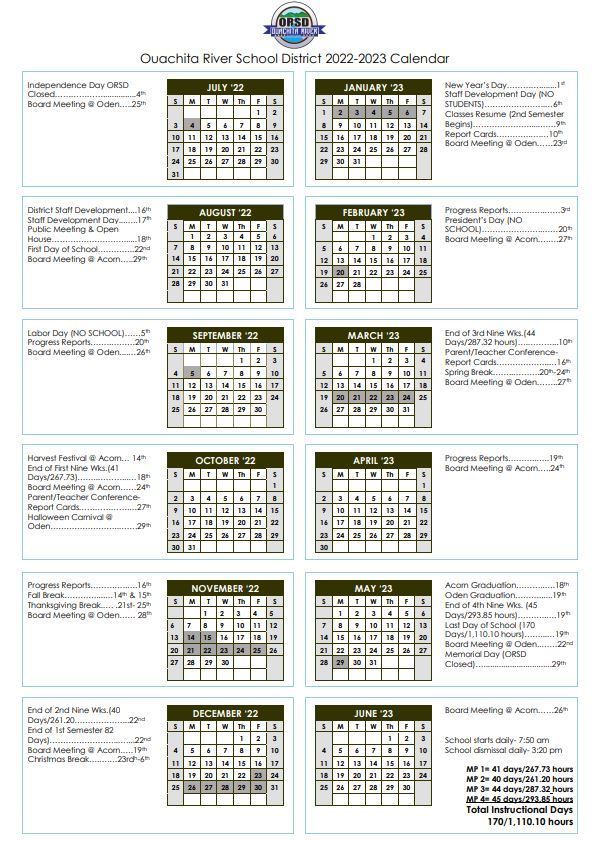 2022 WRESTLING CAMP July 15 & 16, 2022 10:00 AM - 4:00 PM each day Grades K-12 Acorn High School campus See flyer for additional information and contact.
Nance Receives US Naval Academy Appointment Abigail Nance has received and accepted an offer of appointment to the United States Naval Academy with highest recommendations and nominations from the offices of: Senator Tom Cotton, Congressman John Boozman and Congressman Bruce Westerman. The value of her education and service in the US Naval Academy is invaluable with tuition, fees, health and dental care, room and board, and stipends. Nance plans to pursue a career in aerospace engineering. Abigail's academic record and pathway, you will find that she has excelled in STEM courses to solidify her plan to pursue an engineering career in the future. Her efforts extend beyond her own high school activities in volunteering and serving in various roles for the science and math departments at the University of Arkansas Rich Mountain to assist in peer tutoring and organizing student life organization activities and events. Her involvement and engagement in school and community projects, events, and activities are a testament to her character and work ethic. On May 5th, Nance graduated with honors from the University of Arkansas Rich Mountain with an Associate of Arts degree and was a member of Phi Theta Kappa Honors Organization as a college student. She graduated from Acorn High School and received her diploma on Thursday, May 19, 2022, graduating with honors in the top tier of her class and a member of the Acorn High School Chapter of National Honor Society, as well as receiving numerous scholarship offers from colleges and universities around the nation. Congratulations, Midshipman Nance! We are proud of you!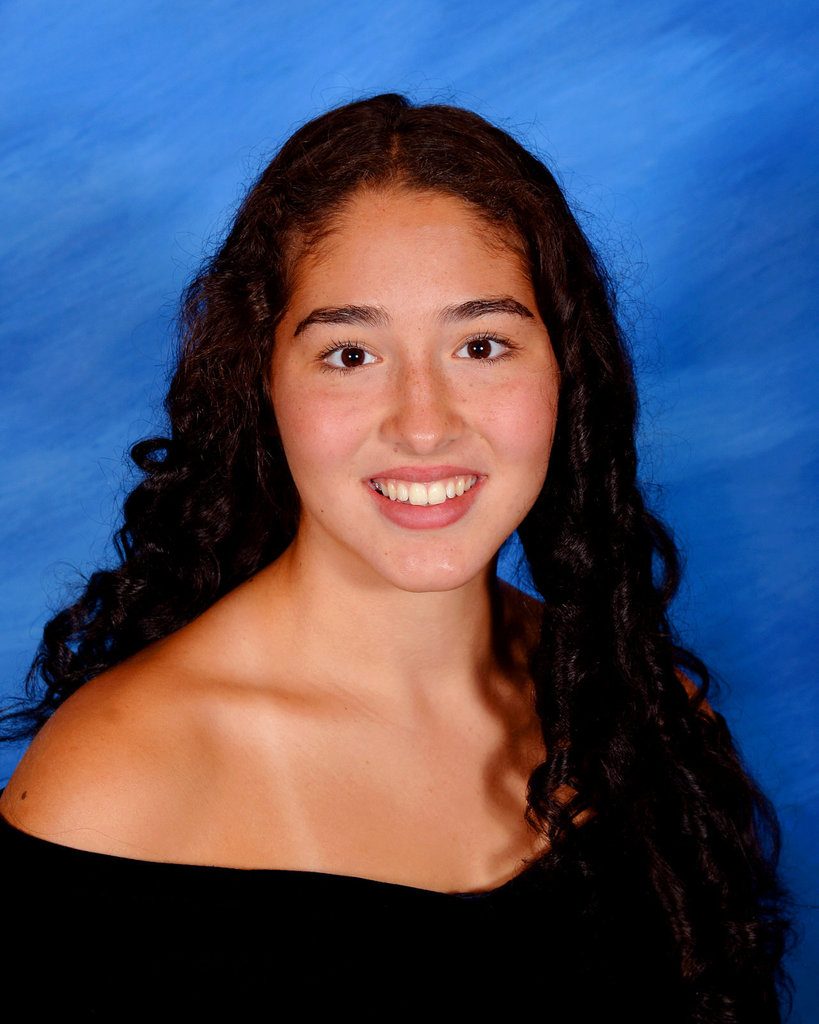 Ode Maddox Elementary had a great last day of school! Student funday was a great way to end an awesome year! 🧡🖤🐺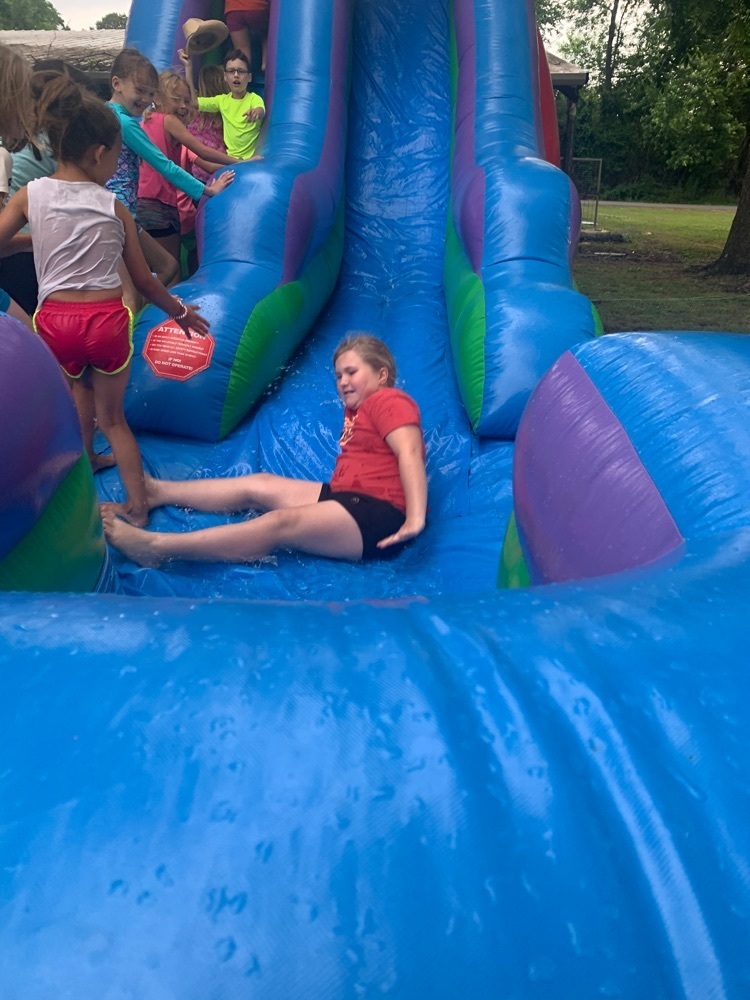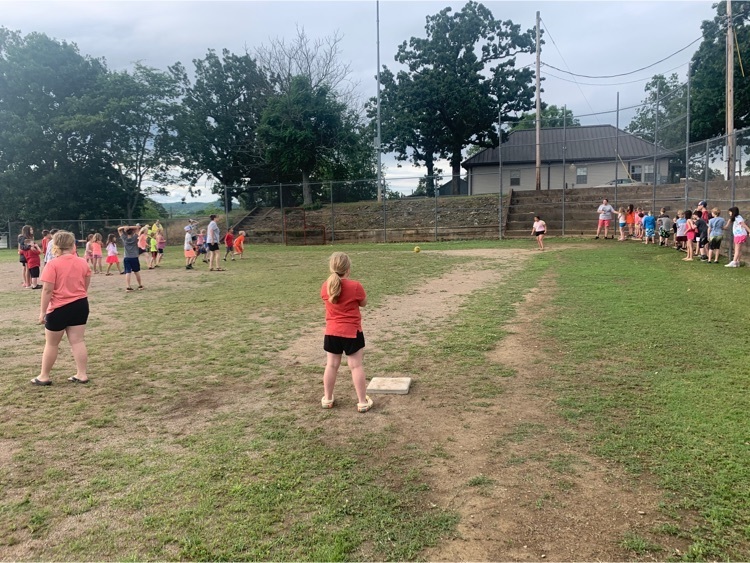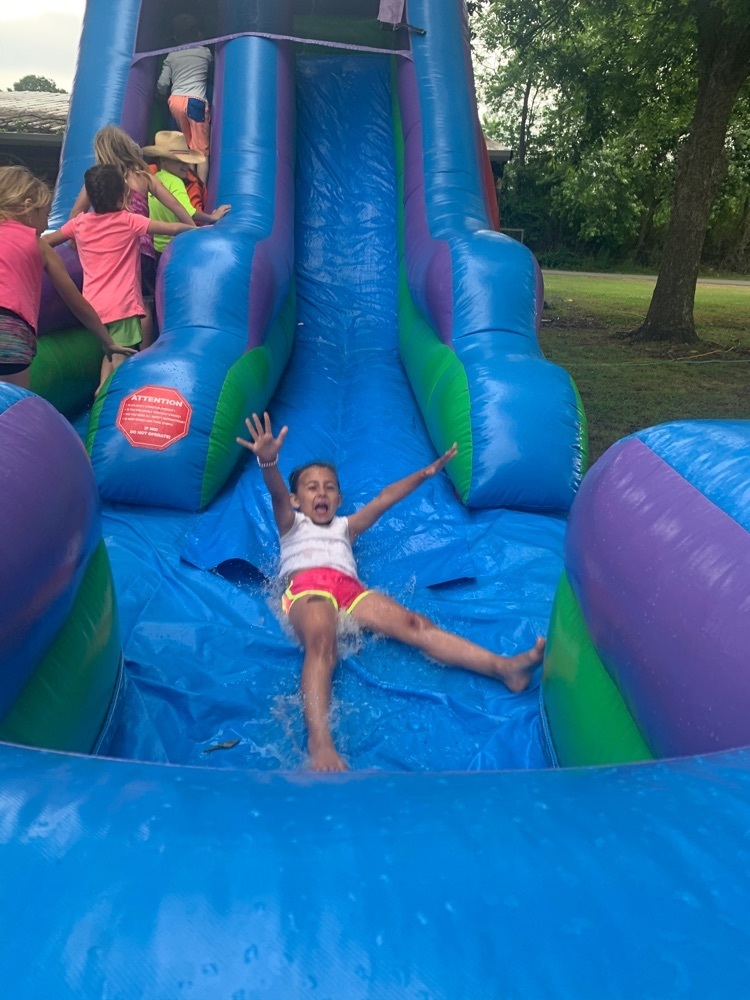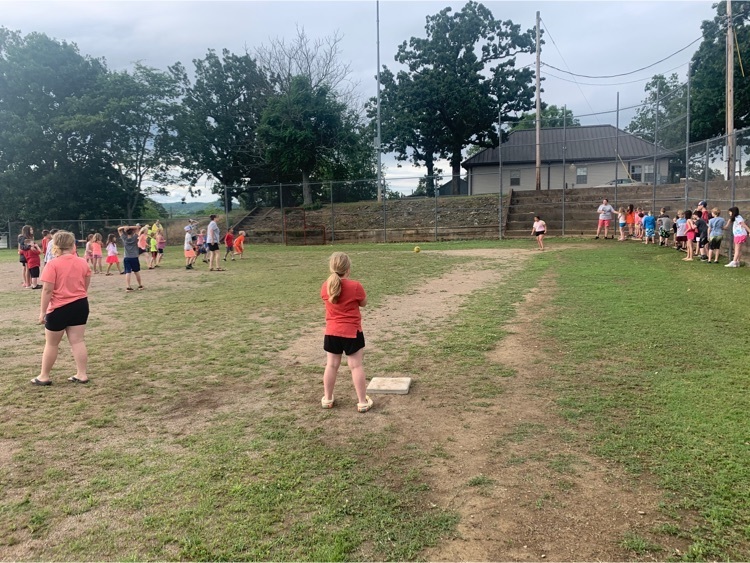 Acorn High School 21st Year Reunion Saturday, 6/18/2022 1-4 PM Acorn Cafetorium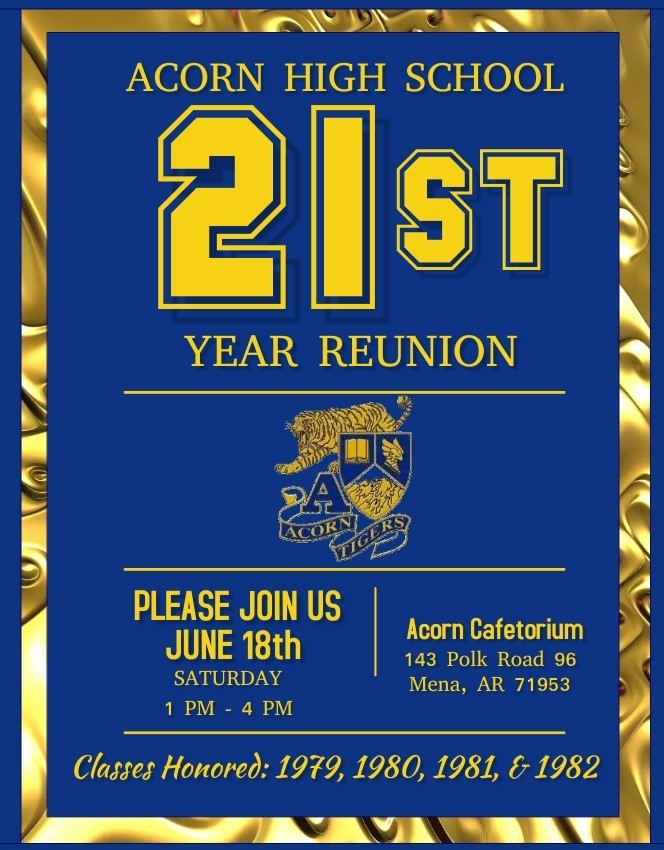 Oden High School Spring Fishing Tournament The Oden Woods & Waters Club, Oden High School's outdoor education and recreation club, held their annual Spring Fishing Tournament on North Fork Lake on Saturday, May 14. Food and prizes were provided to club members, parents and guests. A Lews baitcaster combo, tackle backpack, and a Dick's Sporting Goods gift card was awarded to the three anglers who landed the largest bass. All anglers received various fishing tackle, camping gear, and outdoor equipment. A portion of the food was donated by Mena Walmart Supercenter. Pictured, l to r: Huntar Starr, Tegan Gray, Braxton Hemond, Ethan Stoval, Kaiden Johnson, Caleb Hearne, Owen Hill, Trent Hearne, and Club Sponsor William Edwards (photo credits by Kim Gray). #orsdlifeprep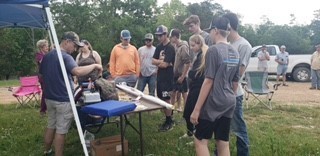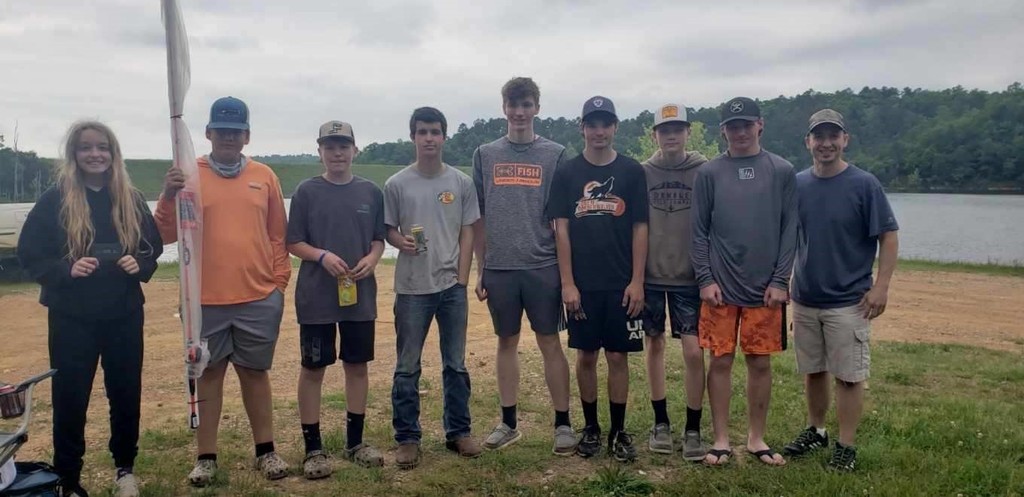 Oden K-12 Schools 2022 Honors & Awards Ceremonies Tuesday, May 24, 2022 6:00 PM Grades 6-12 Bill Kelly Gymnasium Wednesday, May 25, 2022 Immediately following promotion ceremony at 9:00 AM Grades K-5th Bill Kelly Gymnasium Congratulations!
Oden High School Graduation Friday, May 20, 2022 7:00 PM Bill Kelly Gymnasium CONGRATULATIONS to OHS CLASS OF 2022!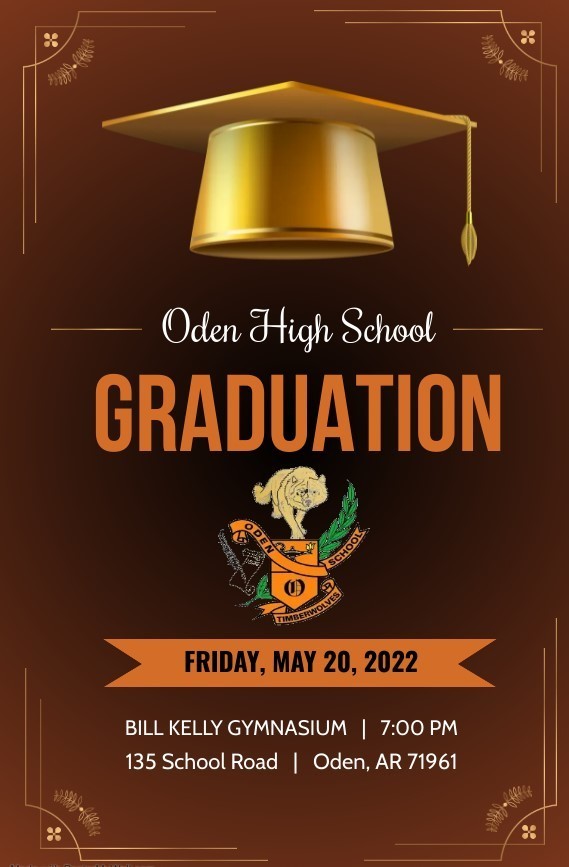 Oden Seniors were treated today at graduation practice with donuts from Mr. Strasner and special class of 2022 pizzas. Thank you Angie Mayo for your craftiness with the pepperonis and making these pizzas for the seniors.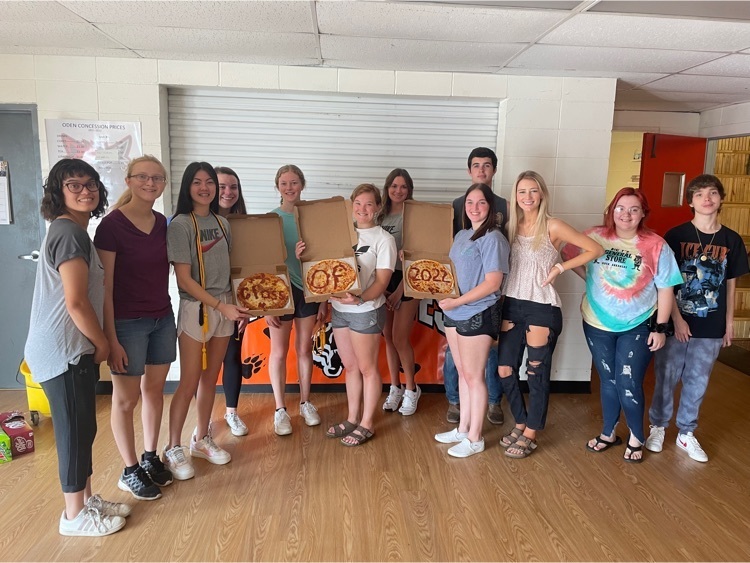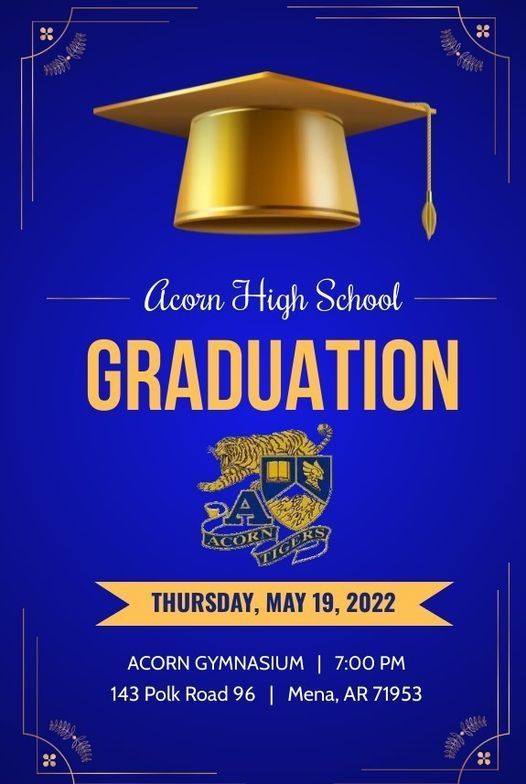 Acorn High School Senior Spotlight - Donavin Pryor Congratulations and our best to you! Proud of you, Donavin! Acorn High School Graduation Thursday, May 19, 2022 7:00 PM Acorn Gymnasium #orsdlifeprep